Posted by occhristiancounseling in development, Dr. Debi Smith.
add a comment
Your love story matters.
It matters because it belongs to you.  It's what you know and where you live.
Mostly, it matters to God.
Posted by occhristiancounseling in development, Dr. Debi Smith, recommended reading, research, understanding men.
add a comment
Mothers and Sons: How the Maternal Attachment Experience Affects Boys' Emotional and Social Development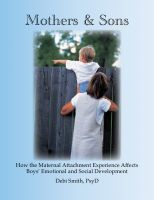 By
Dr. Debi Smith
Published: Oct. 30, 2012
Words: 18323 (approximate)
Language: American English
ISBN: 9780988593411
This academic exploration of the mother-child relationship gives particular attention to its specific impact on male children and their emotional development. The issue of nature and nurture is addressed, as is the complex topic of boys and vulnerable emotions, with particular emphasis on guilt, humiliation, and shame; anxiety and depression; and anger and rage.
Posted by occhristiancounseling in development.
add a comment
Men are notoriously bad at asking for their needs to be met, which greatly colors our perception of what they need and want. We mostly assume that they want their own way. We assume they want sex. A lot of sex. And they want to watch sports. And to eat junk food. And they don't want to talk. Especially about your relationship.
As you can see, that paints a pretty shallow picture of men. (Ummm … can pictures be shallow?)
In reality, men are much more complicated than that. A large part of what a man wants depends on where he is in his life. Is he a boy? teenager? young adult? building his career? starting his family? at midlife? recently retired?
We get ourselves into a lot of trouble by assuming all men are always the same, and by that we mean that they must fit the stereotype created for us by a significant male figure in our lives. That doesn't leave much room for developmental or individual differences.
Want to find out what he wants?
Ask him what he wants from you … or from life. Then listen. Without comment. For as long as he talks. Don't fill in the silent spots for him. If he pauses, ask him if there's anything else. When he says "no," simple say "thanks."
For more information on this topic, check out Understanding the Men in Your Life: What Every Woman Needs to Know About the Psychology of Men.